Vinyl Garage Doors: How Do They Stack Up Against Other Materials?
Vinyl is a popular material for garage doors. It's no surprise why, as there are a number of advantages to owning a vinyl garage door. In this article, the team at Creative Door gives you the pros and cons of using this type of material for your garage door so that you can decide whether it's the right choice for your home.
In particular, we'll look at how vinyl garage doors stack up next to steel garage doors. It makes sense to compare these two types of garage doors, as they have similar features and offer many of the same advantages. Both are low maintenance, highly durable, and long-lasting. Plus, they're similar in appearance. However, there are some important points of difference. Keep reading to learn more!
Durability
It may surprise you to learn that vinyl garage doors are in many ways sturdier than steel garage doors. Whereas steel doors are prone to being dented and dinged, vinyl doors are highly resistant to damage. Moreover, if scratches or scuffs do occur, they're less noticeable on vinyl as opposed to on steel. Whereas steel garage doors have a painted finish, vinyl garage doors are one colour all the way through, so any blemishes are tough to spot.
To put it simply, vinyl garage doors are pretty close to indestructible. This makes them an ideal choice if you have kids, as they'll be able to handle nearly anything your little ones throw at them.
However, it is important to note that in very cold temperatures vinyl can become brittle and may crack when faced with a forceful impact. Also, unlike steel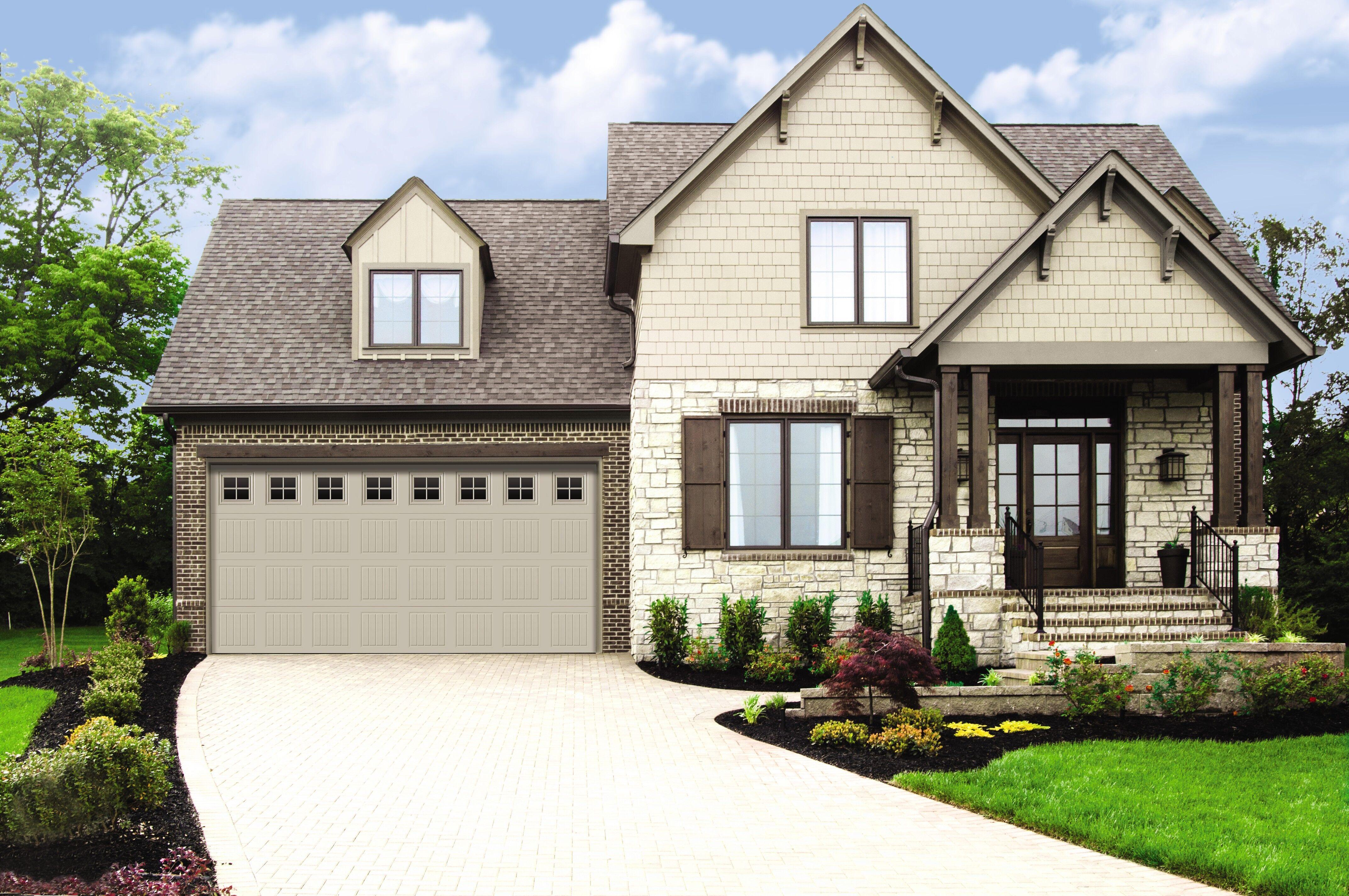 or wood doors, vinyl garage doors aren't meant to be repainted. While it's possible to refinish a vinyl garage door with a paint specialty designed for vinyl, this isn't recommended and will nullify your door's warranty.
Weather resistance
Vinyl garage doors are highly versatile and they're an especially good option for coastal regions. There are several reasons for this, including the following:
Unlike steel garage doors, which may develop rust over time, vinyl garage doors are entirely rust-proof
Unlike wood garage doors, they won't warp or rot in humid conditions
They're highly resistant to salt air, wind and sand
They can handle extreme weather conditions
Vinyl garage doors also have a UV-resistant finish. This ensures that the colour of the garage door doesn't fade due to sun exposure.
Maintenance
Both vinyl and steel garage doors require little in the way of maintenance. Whereas wood garage doors need a fair bit of TLC to stay in optimal condition, these garage door types require only sporadic washing with soap and water.
Insulation
Vinyl isn't in and of itself an insulating material the way wood is. However, like steel garage doors, vinyl garage doors can be packed with highly insulating materials and consequently rival even the best-insulating wood doors. A case in point is the Model 8700 garage door from Wayne Dalton, which has polyurethane insulation and an R-value of 11.75.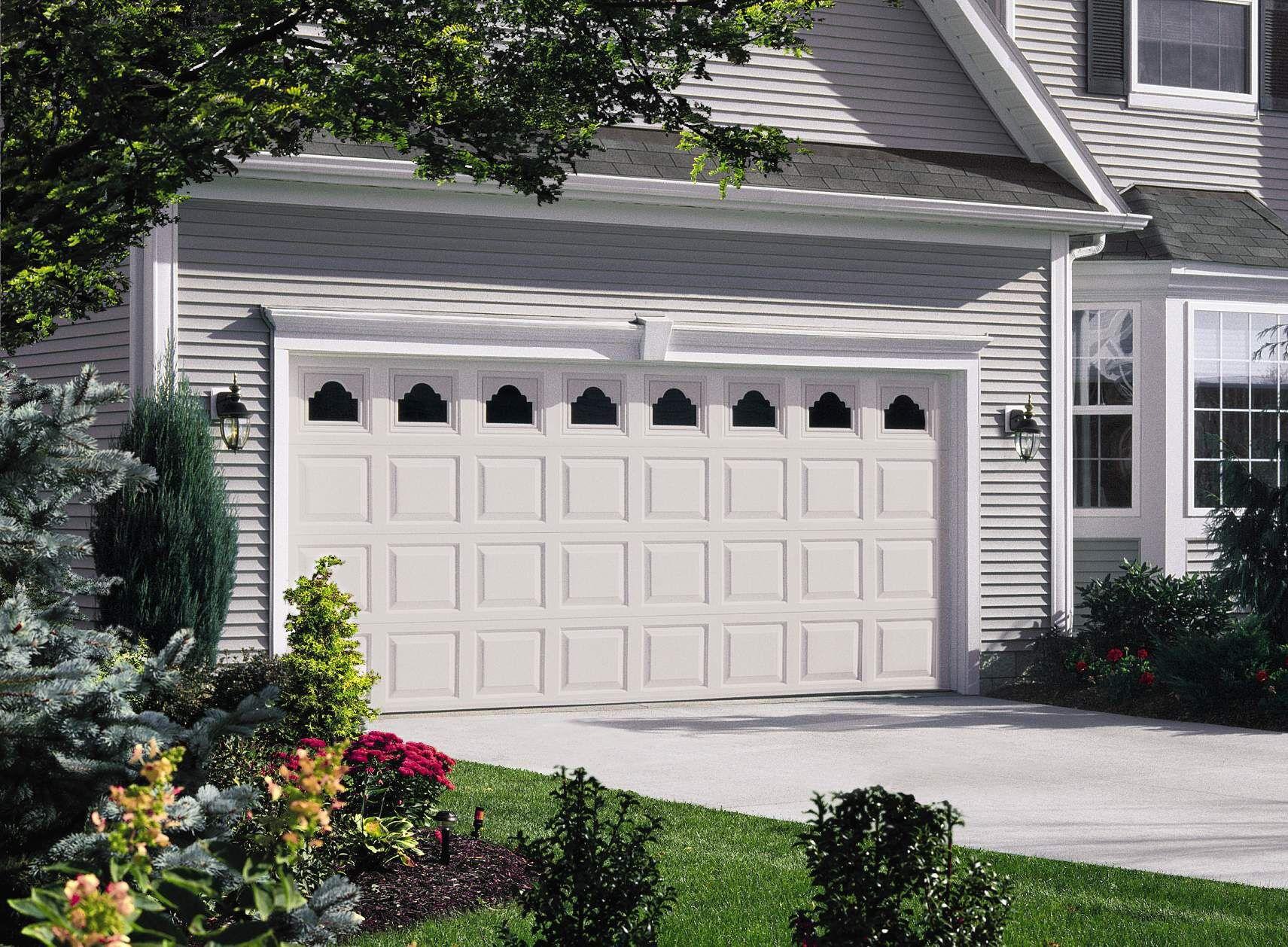 Appearance
Vinyl and steel garage doors are aesthetically similar. They both have a clean, sleek look and offer various customization options. This includes different panel designs and window options. However, there tends to be fewer colour options with vinyl doors. Typically, there are various shades of white and beige available. If you're looking for something bolder, you'll likely have to opt for a different garage door material.
Also, if you're attached to the classic wood grain look, vinyl garage doors probably aren't the right option for you. While it's possible to get vinyl garage doors embossed with a wood grain pattern, the results usually leave something to be desired. Whereas faux-wood can look highly realistic on steel and fibreglass garage doors, it doesn't work as well with vinyl.
Cost
While vinyl garage doors tend be more affordable than wood garage doors, they generally cost more than steel garage doors. However, as they're so resistant to rust and damage, they can end up proving the better investment in the long run.
Warranty
Quality vinyl garage doors tend to have comprehensive warranties, which reflect their durability. If you've decided to purchase a vinyl garage door, look for a warranty with multi-year guarantees that the vinyl won't flake, chip, or crack and that the colour won't fade. This way you'll know that the manufacturer stands behind the quality of their product.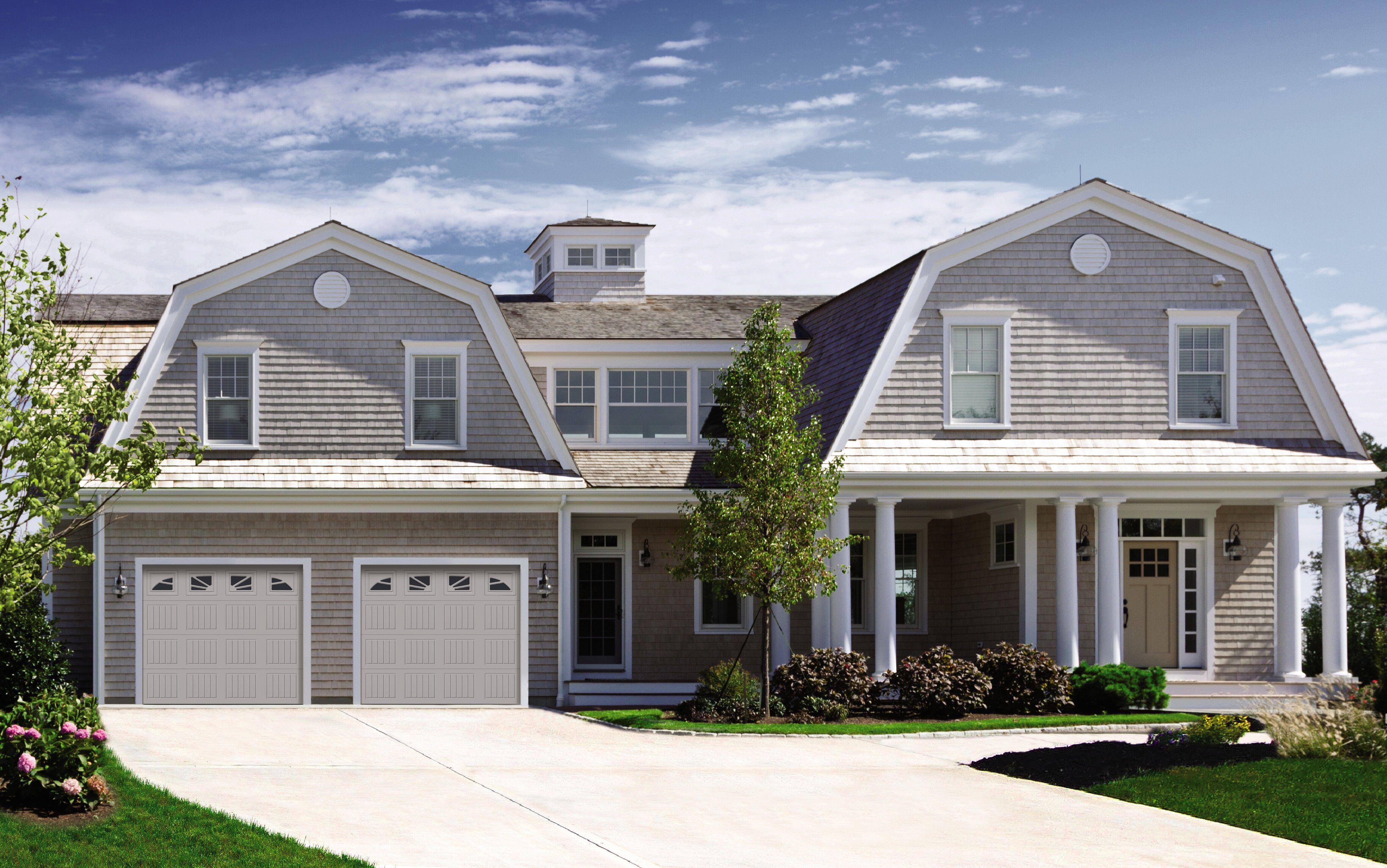 Quality vinyl garage doors in Western Canada
If you're looking to purchase a vinyl garage door for your home, turn to Creative Door for an exceptional product and superior installation. We carry specialty vinyl garage doors by Wayne Dalton, which, in addition to being distinctly attractive, are highly durable, well-insulating and made to withstand the elements of a coastal climate. If you want to learn more about our garage doors or our installation and repair services, contact our team today!