Residential Planned Maintenance Programs
With so many moving parts, there are countless opportunities for damage or malfunction to occur with your garage door system. Creative Door Services™'s Planned Maintenance program helps to prevent damage long before it happens by allowing our expert technicians to keep a close eye on your garage and intelligent access solutions products on a regular basis. Pre-scheduled service calls can catch issues early on before they develop into legitimate issues. Prevent an unexpected and costly repair with simple and thorough planned maintenance programs available for residential customers.
Residential Maintenance Program For Your Garage Door
It's a fact of life: garage doors can fail at the most inconvenient times. Our trained technicians can pinpoint and fix problems with your residential garage doors before these problems become major mechanical issues. Prolong the life of your garage door and operator equipment with a hassle-free, non-invasive maintenance program. Keep your garage door operating at its best and enjoy the peace of mind that comes with having our experts on the job identifying issues early on. The continuous planned maintenance of your garage door system will provide the following:
Smooth and reliable operation of your garage door
Reduced unexpected repairs and costs
Parts and labour guarantees
Regular inspections and repairs completed at your convenience
Improved performance of your garage door system which will help extend its lifespan
Learn more about our residential planned maintenance program here.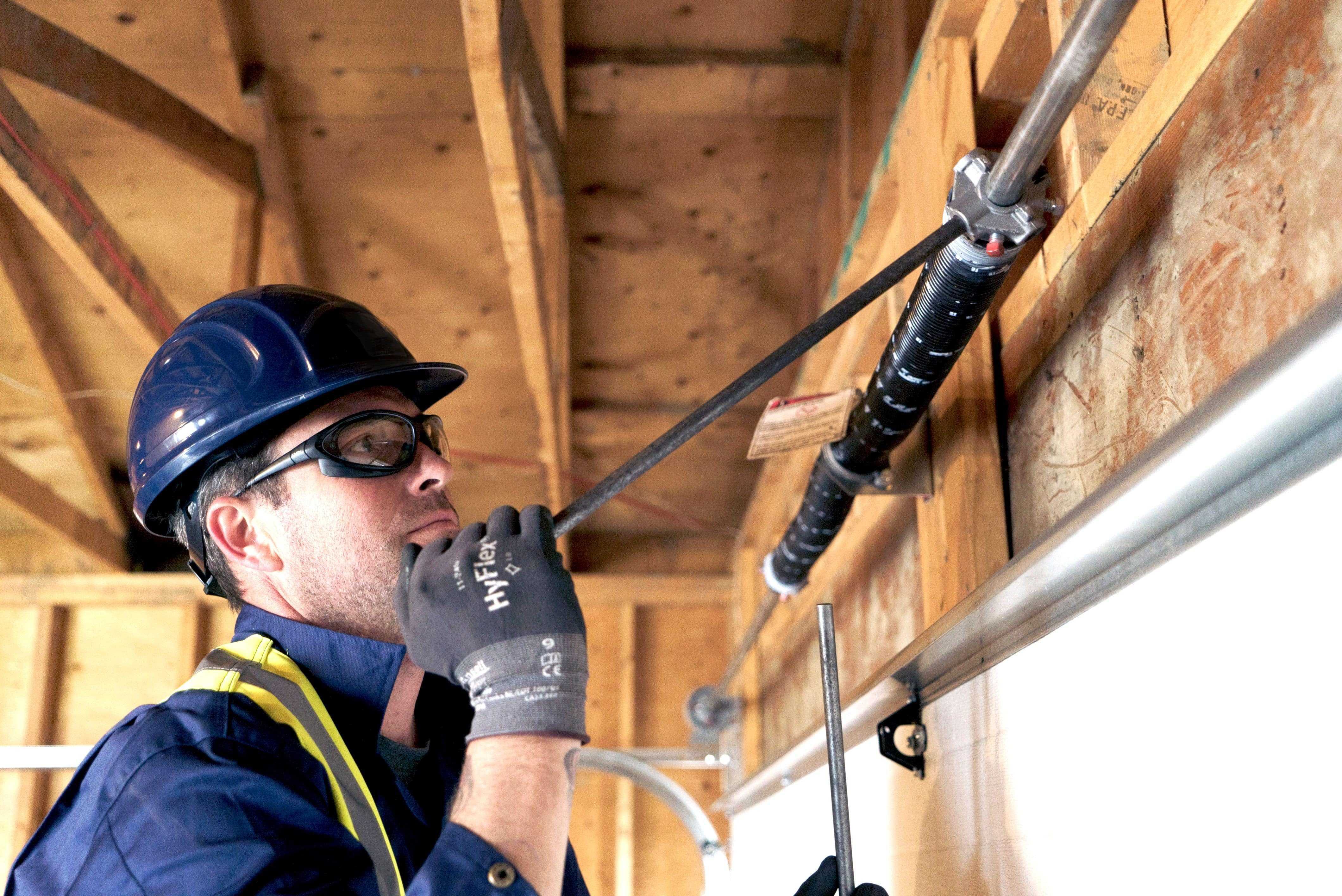 The Importance of Regular Maintenance & What to Expect
When Creative Door Services™ arrives at your property, you can rest assure that you'll be in good hands. Here are some of the common maintenance tasks we will take care of to ensure you get the most out of your garage door:
Regular inspection: It is essential to inspect the garage door regularly to identify any signs of wear and tear or damage. A technician can check for loose parts, dents, cracks, and other issues.


Lubrication: Lubricating the garage door's moving parts helps to ensure smooth and efficient operation. A technician can apply lubricant to the rollers, hinges, tracks, and other parts as needed.


Spring adjustment: Garage door springs help balance its weight and support its movement. If the springs are not adjusted properly, it can lead to safety hazards and other issues. One of our trained and certified technicians must adjust the springs as needed to ensure optimal performance. This task is far too dangerous to perform on your own.


Cable and pulley inspection: The cables and pulleys in a garage door system are critical components that can wear out over time. We'll inspect these parts to ensure they are in good condition and replace them if necessary.


Garage door opener maintenance: If you have a garage door opener, it may require maintenance from time to time. A technician can inspect the opener's motor, gear system, and other components to ensure they function correctly and replace worn parts as needed for optimal performance.
Overall, scheduling a residential garage door technician for regular maintenance can help to ensure your garage door is functioning properly, reduce the risk of safety hazards, and extend its lifespan (and your ROI!).
Does your home have a driveway gate as well? Creative Door Services™'s also comprehensive regular maintenance services for a variety of estate gates and automatic gates.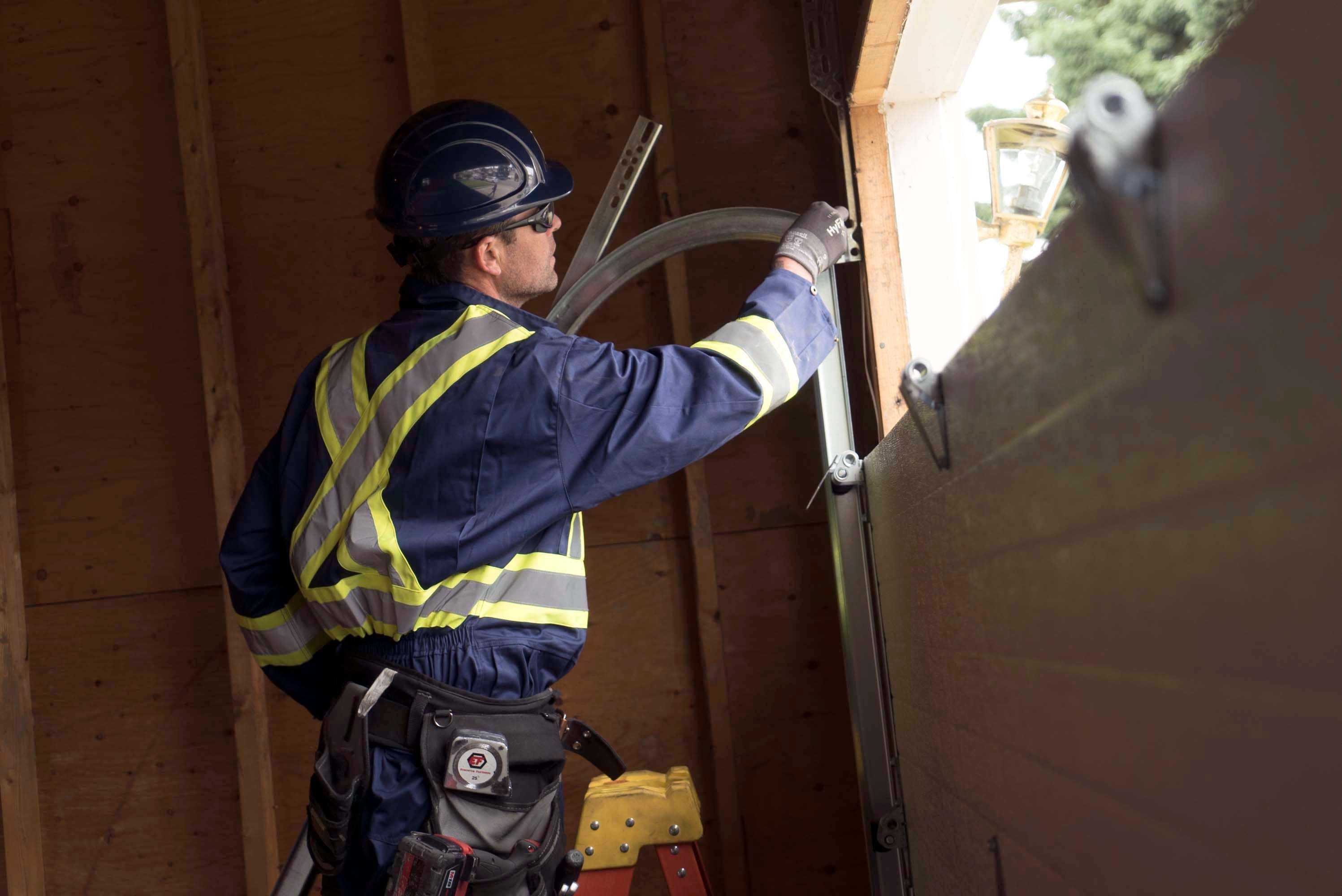 Monthly Garage Door Maintenance Checklist
Does your garage door need maintenance or a full repair or replacement? Here's how to find out:
Stand inside your garage with the door closed.


Glance over your door's rollers, pulleys, springs, cables, and mounting hardware, such as hinges. Keep an eye out for signs of wear or damage, such as dents or rust.


If you notice any of these parts are looking run-down, or if you hear unusual noises when operating your door, it's time to recruit the help of one of our trained garage door and commercial door technicians.


DIY: Garage Door Maintenance Tips
Sometimes action can be taken in your own hands before calling in the experts. Help your garage door or commercial door last their lifetime by performing basic maintenance checks yourself.
Inspect and lubricate your door's tracks and roller with garage door spray lube. Tighten the hinges to make sure that they're secure.

Lubricate your door's hinges, springs, and bearings. If your door is fitted with a chain or screw-drive opener, apply lubricant to the mechanical components.
Wipe everything clean and then apply light oil to all moving parts.
Using a clean cloth, wipe down the outside of your door with a household detergent diluted with water.
If you have a wooden garage door, find and caulk any cracks or gaps according to manufacturer recomendations.
Check the weatherstripping around your door. If you notice that it's cracked or broken, it's time to replace it.
Disclaimer: Our DIY maintenance tips should be performed at your own risk and shouldn't be attempted without the necessary tools, appropriate safety attire, and proper safety practices and procedures.


DOOR BALANCE TEST
Learn how to test your door's balance on our Troubleshooting page.


REVERSING MECHANISM TEST
Your garage door operator is equipped with a safety reverse system that'll make your door reverse if it comes into contact with a person or object while closing.
Once a month, test out the system to make sure it's working properly:
With your door fully open, lay a 2" X 4" piece of lumber flat on the floor where your door will touch down when it closes.
Use the remote or keypad for your garage door opener to close your door.
When your door strikes the wood, it should automatically stop and reverse.
If your door doesn't reverse, schedule a service call with one of our certified technicians and avoid using the door until we've resolved the problem.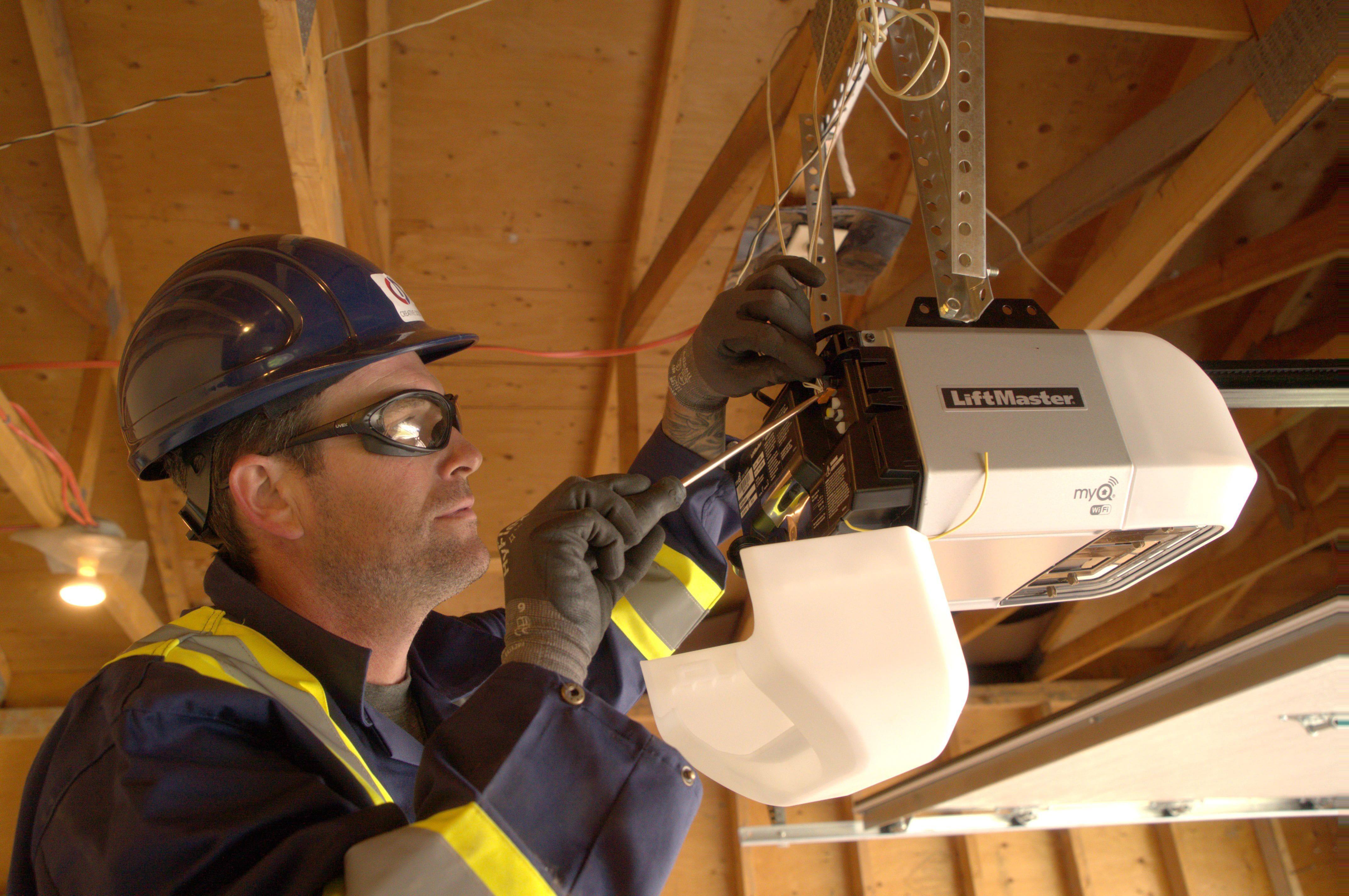 SENSORS TEST
Here's how to test your door's sensor eyes:
Stand in front of your fully open garage door.
Use the remote or keypad for your garage door opener to close your door.
As your door is closing, run your foot or an object like a broom through the sensor beam at the bottom of the opening of your garage.
If your door doesn't automatically reverse, your door's sensor eyes may be dirty or misaligned.
Close your door completely and clean the sensor eyes with a soft, dry cloth.
Carefully adjust the sensor eyes to make sure they're aligned.
Open the door and repeat the test.
If your door still doesn't stop and reverse, it's time to call the experts at Creative Door Services.


Commercial & Industrial Planned Maintenance Plan For Your Business
For commercial and industrial operations, a malfunctioning sectional door, commercial door, gate or intelligent access solutions product can reduce the efficiency of your operations and even halt your workflow. Just like a residential garage door, regular planned maintenance will help prolong the life of your product and extend its lifespan.
Learn more about our commercial and industrial planned maintenance program.

SAFETY
The simplest and safest solution to any garage door or commercial door problem is to book a service call with one of our certified technicians. Keep yourself and your family safe. Before beginning any maintenance on your garage door, be sure to let everyone in your home know that the door shouldn't be opened or closed until your work is done.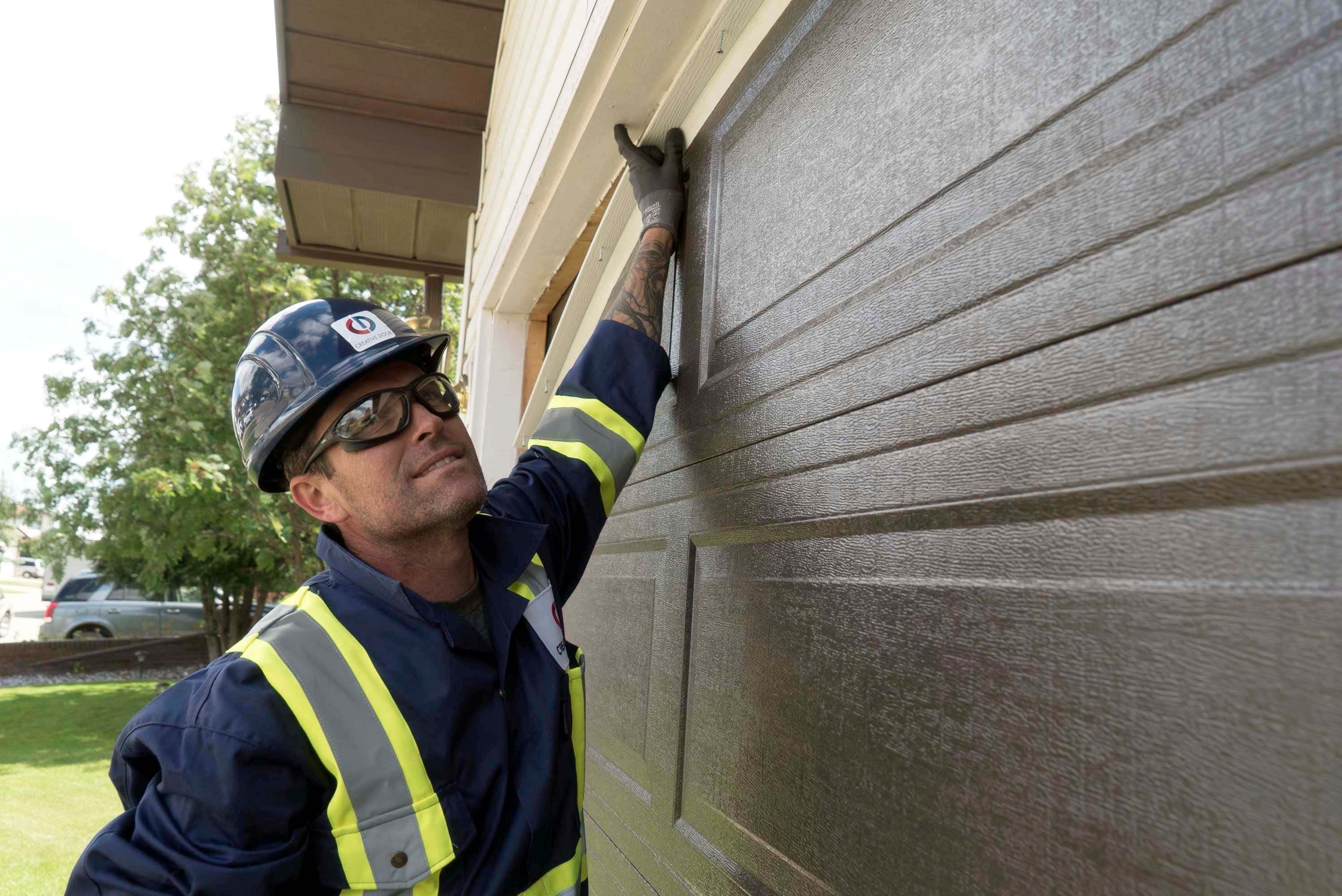 Trust the Garage Door Experts to Keep Your Garage Door Safe and Reliable
When in doubt, leave the maintenance to our experts. Our 15-point safety inspection will help prevent unwanted surprises or added expenses. If you are ready to start a proper planned maintenance schedule, our team is available to help you get started.
Contact your local Creative Door branch today. With eight branches across Canada, including Edmonton, Alberta; Fort McMurray, Alberta; Calgary, Alberta; Vancouver, British Columbia; Kelowna, British Columbia; Saskatoon, Saskatchewan; Regina, Saskatchewan; and Winnipeg, Manitoba, we're here to help.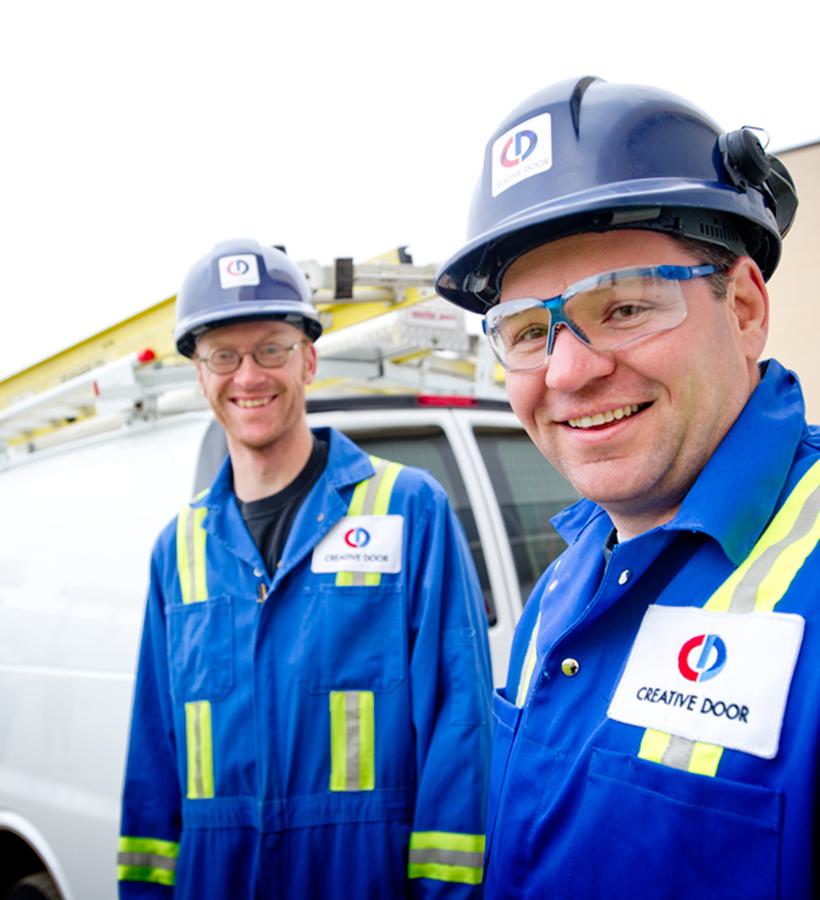 Request Quote
Starting a new project? Get a free quote on a custom door solution within 24 hours.
Request Quote
Request Service
Installation, maintenance or repair needs? Our experienced team is ready to help.
Request Service