Our Installation Services: Garage Doors, Commercial Doors, Pedestrian & Automatic Doors, & Gates
At Creative Door Services™, we are committed to providing exceptional installation services for residential garage doors, commercial doors, pedestrian and automatic doors, and gate systems. Our team of skilled technicians ensures that every installation is done professionally and up to code, while also being completed in a timely and efficient manner.
We take pride in using only the best products, accessories, and brands from industry-leading suppliers that we know and trust. If Creative Door Services™ carries it, you can rest assured that it will stand up to the test of time. Whether you're looking to install a new garage door, commercial door, pedestrian door, or gate system, we are here to help. Contact us today to learn more, or to get a custom quote.
GARAGE DOOR INSTALLATION SERVICES
Do you want to boost your property's curb appeal with a new garage door? Or are you looking to streamline business operations with a high-performance commercial door? Don't risk a botched do-it-yourself installation. Instead, leave this job to the experts at Creative Door Services™. Our knowledgeable team offers a wide selection of garage doors and commercial doors, including custom and specialty options. With our expertise, you can expect a flawless installation that will elevate the functionality and style of your property.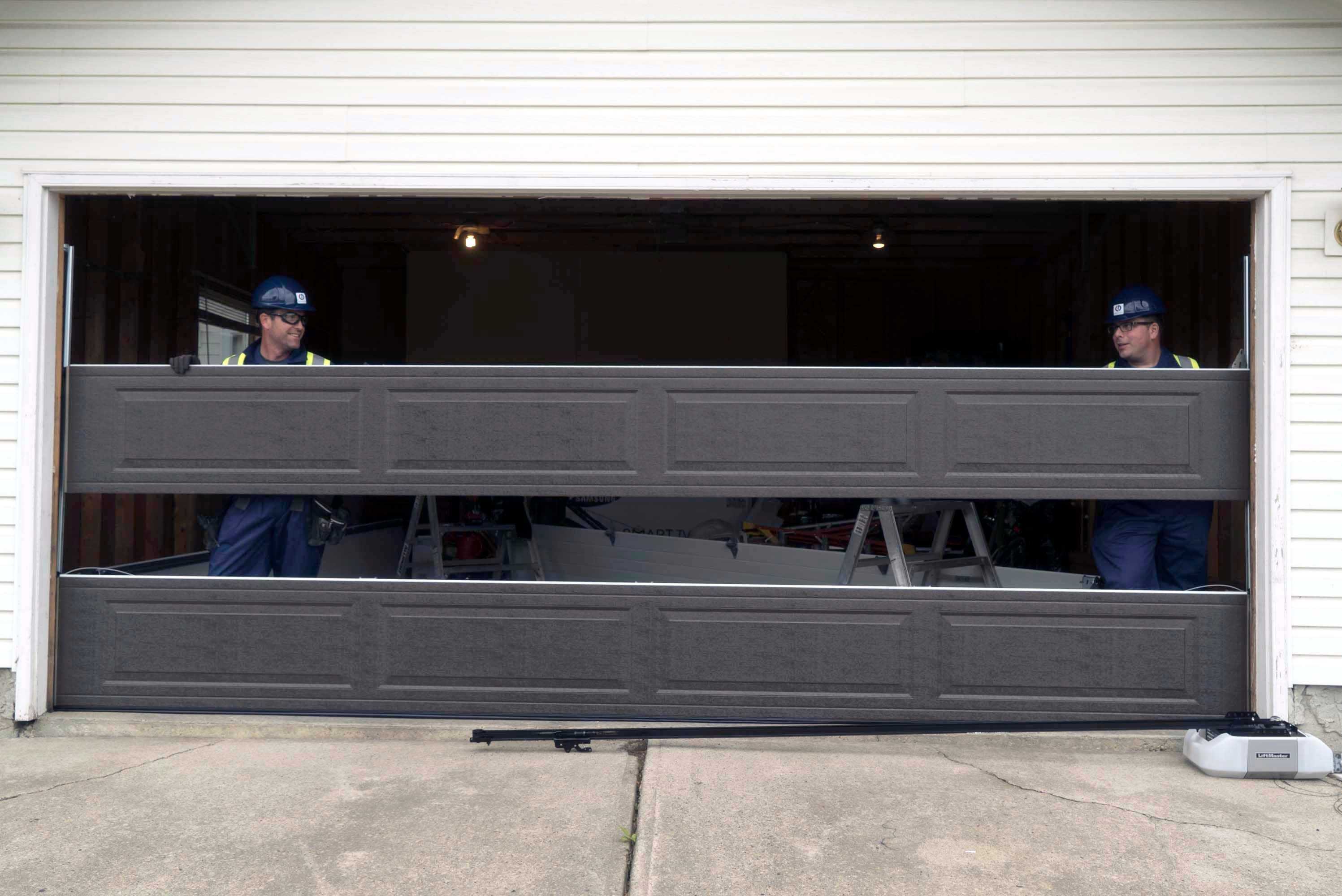 OUR INSTALLATION PROCESS
1.) Product Selection
To begin, we'll help you find a garage door that meets your needs. Our team of experts will help you choose from our wide range of garage doors and products, ensuring that the design complements your property's aesthetics. We'll not only ensure that your selection meets your security and safety needs, we'll make certain it's optimal for your region and climate.
If you need a complete garage door system, we can also set you up with a state-of-the-art garage door opener with advanced safety and security features, such as battery backup, motion detection, and smart home integration


2.) Pre-installation Inspection
Once you've selected a garage door, our team will visit your property for a pre-installation inspection to ensure that the installation is done smoothly, safely, and correctly. During the inspection, the technician will examine the structure and framing of the garage opening to ensure it can support the new door, and check for any issues that may impact the installation, such as obstructions or electrical wiring. They will also take measurements of the opening to ensure that the door is the right size and determine if any modifications are needed to accommodate the new door. For the sake of your convenience, we'll book the pre-installation inspection, and the installation itself, on a day and time that works with your schedule. Keep in mind that you must be on site for both appointments.


3.) Delivery and Installation
On installation day, our qualified technicians will install your new garage door according to industry best practices. Once the job is complete, we'll perform a thorough inspection to ensure that your garage door system functions optimally.
At most Creative Door Services™ locations, cleanup and disposal of your old garage door is included in the installation. But, just to be sure, please contact a member of our team to confirm.
For information about preparing your home for a garage door installation, read our article about what to expect from our installation team.


4.) Post-installation Services
After we've installed your garage door, we provide further support. We back up our work with an installation warranty and are just a call away if you experience any problems. On top of this, all our new garage doors come with a manufacturer's warranty that covers defects in the materials and issues with the workmanship of the garage door itself, including hardware. We also offer a limited warranty on our services.
Additionally, our service professionals can provide regular garage door maintenance to help mitigate the need for repairs and ensure the safety of all people that use your garage door. Thanks to our maintenance program, you can enjoy the peace of mind that comes with having regular expert inspections. Our professionals will ensure your garage door operates efficiently and that any issues are identified before they become major problems.
RESIDENTIAL GARAGE DOOR PRODUCT COLLECTION
At Creative Door Services™, we offer a wide selection of top-quality garage doors that have a range of possibilities for customization. We carry products made of the following materials:
Steel
Wood
Aluminum
Glass
Fibreglass
Vinyl
Copper
In addition, we offer a variety of garage door styles, including traditional, rustic, modern, premium, and carriage house.
If you don't know where to start, our knowledgeable team can help you navigate your options. We'll guide you in determining which garage door materials, features, and customization options will most suit your home, region, lifestyle, and budget.
Concerned about curb appeal? To enhance the look of your property we offer garage doors that come equipped with a variety of panel styles and decorative hardware options. If you're looking for inspiration, be sure to check out our interactive product catalogue.
GARAGE DOOR ACCESSORIES
If you want to bring your old garage door into the modern era, Creative Door Services™ has what you need. We carry an extensive collection of accessories that can improve the functionality, reliability, and safety of your door system. Our trained technicians can install everything from wall stations and remotes to motors, electronics, and sensors. Our collection also includes keyless entry systems, battery backup systems, and Wi-Fi enabled garage door openers to enhance the convenience and energy efficiency of your garage door system. We're your one-stop-shop for garage door upgrades and customizations!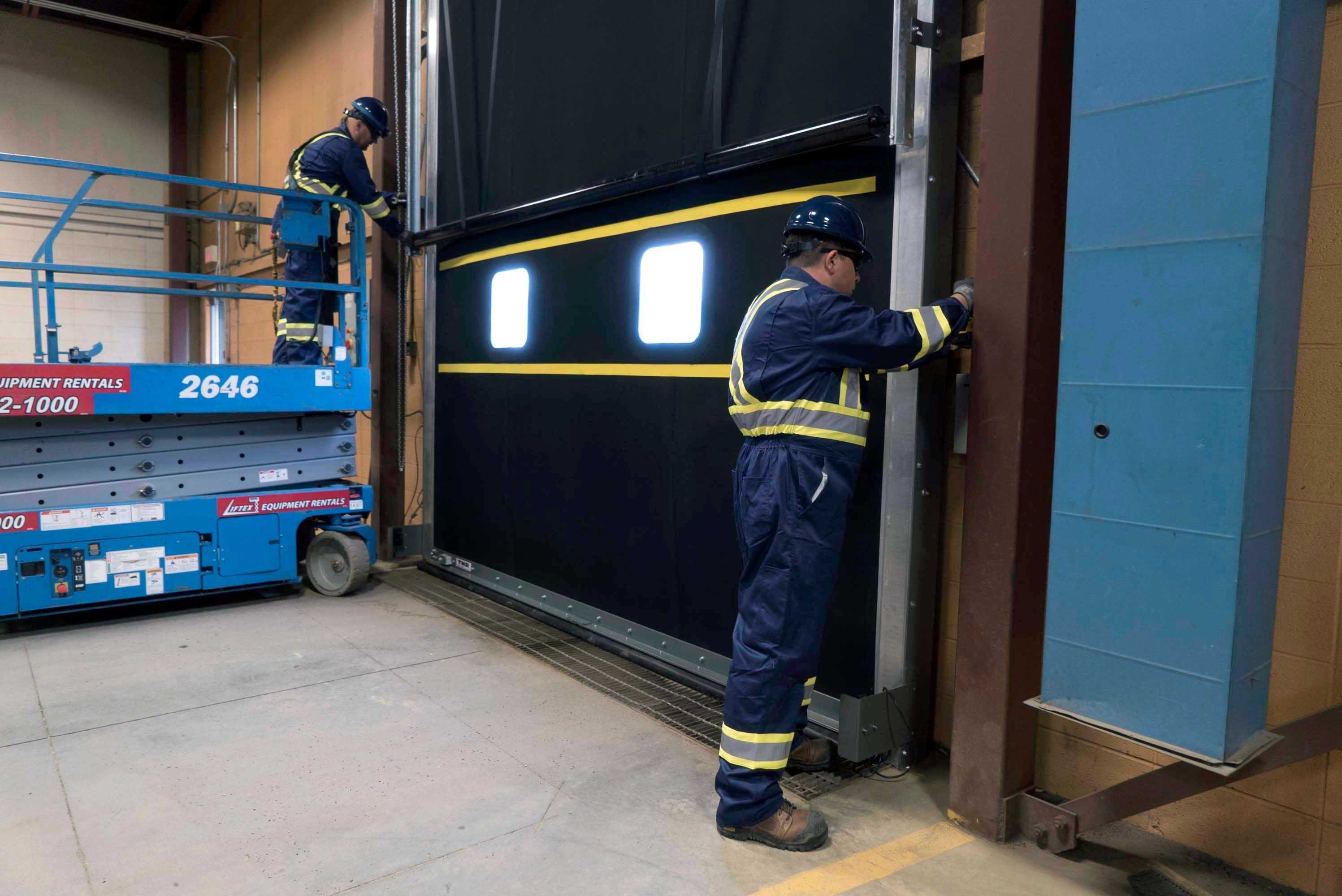 COMMERCIAL DOOR COLLECTION
Are you looking to streamline operations and enhance your company image with a custom commercial or industrial door or intelligent access solutions product? At Creative Door Services™, we supply, install, and service all makes and models of commercial doors, pedestrian doors, gate systems and intelligent access solutions from the trusted door and opener manufacturers, including Wayne Dalton, Richards-Wilcox, Genie, LiftMaster, FinDoor, and others.
Our vast selection of commercial and industrial doors include:
If you're shopping for a complete commercial door system, we also install commercial door operators.
A professional installation ensures everything is completed to code in a safe, efficient, and timely manner so that your new commercial door operates smoothly and efficiently, maximizing its lifespan and reducing the need for costly repairs in the future. The experienced technicians at Creative Door Services™ provide prompt and professional installation services for all types of doors, using only the highest-quality products and accessories from industry-leading suppliers.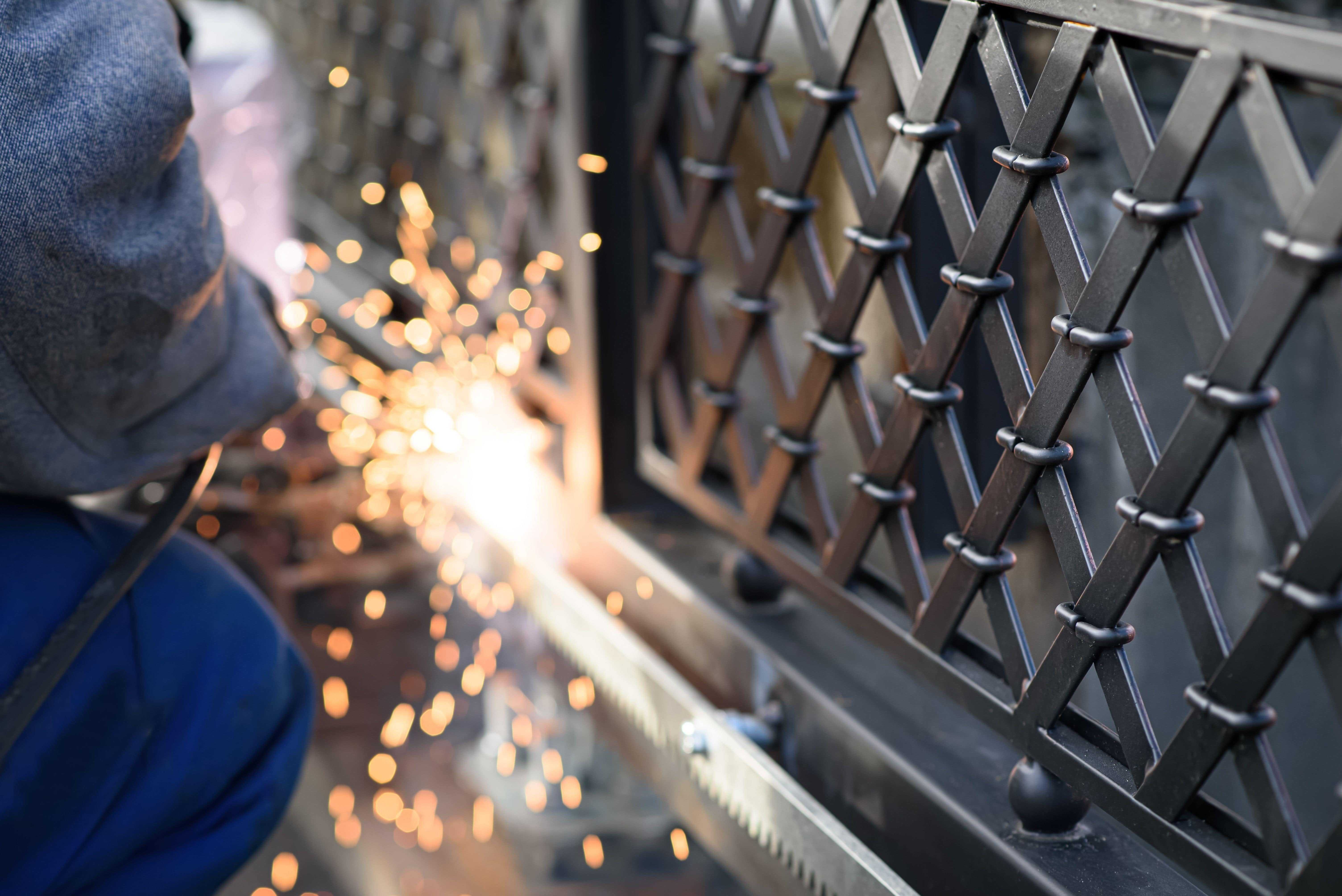 GATE INSTALLATION
Whether your focus is reliability, security, or convenience, our team has the expertise to create a custom gate solution for your home or business. Our installation technicians provide top-quality services and are committed to meeting every project with enthusiasm and an open mind. You can rest assured that all our gates meet the highest standards for workmanship and durability. To learn more about gates from Creative Door Services™, be sure to check out our blog:
We offer an extensive collection of swinging gates, sliding gates, and security gates for both residential and commercial applications. Our experts can help you choose from a variety of colours, styles, and materials to find a solution that best suits your needs.
In addition, if you need a gate operator that provides consistent performance, security, and durability Creative Door Services™ has you covered. We carry top brands such as FAAC, LiftMaster, and HySecurity, which have been built to withstand the extreme Canadian weather.
Our technicians can install even the most advanced gate operator systems. Whether you need a solution that can hold up to your fast-paced commercial business or simply want added convenience at home, our gate operators are available in a variety of sizes and materials.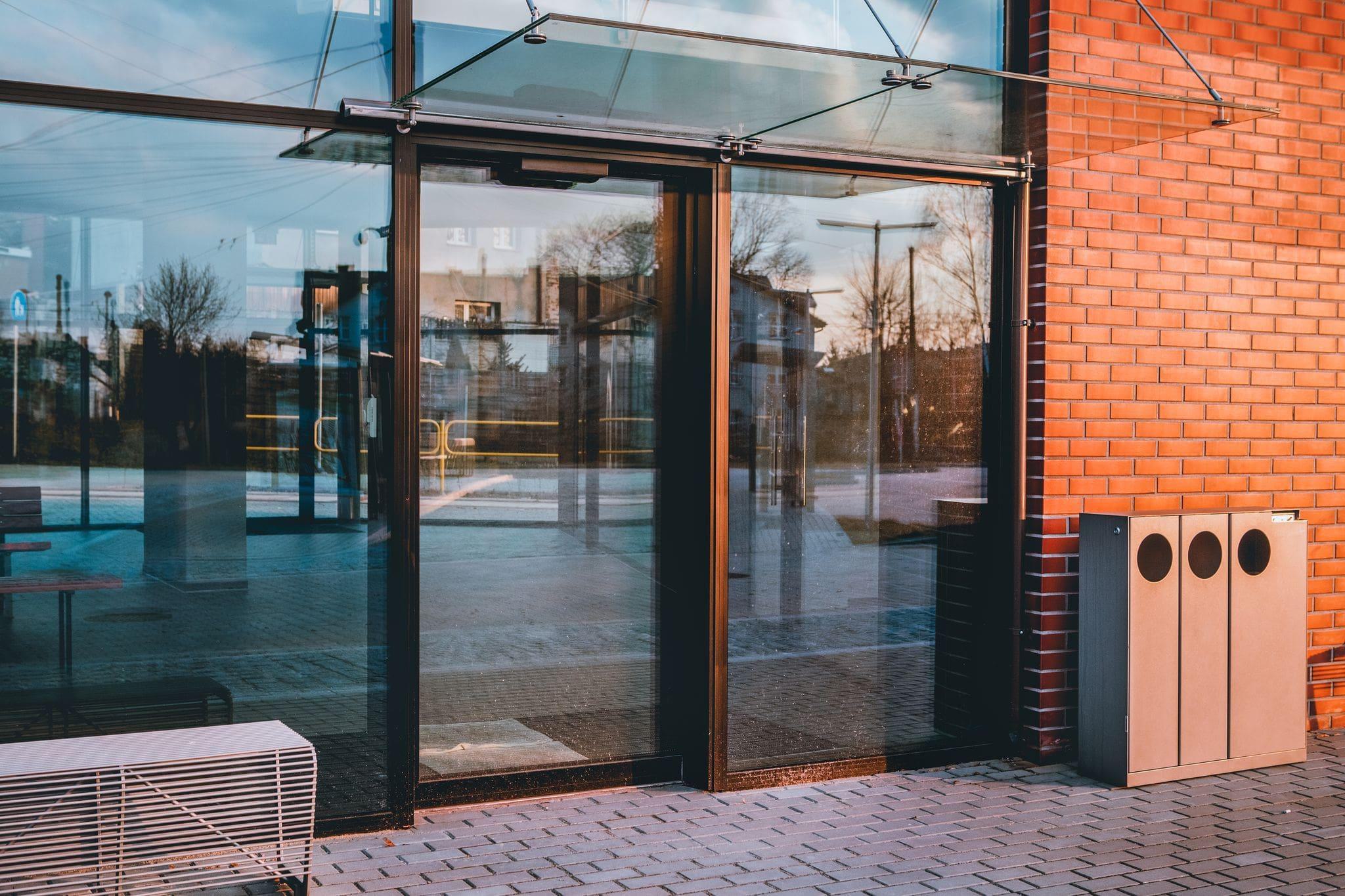 PEDESTRIAN DOOR & AUTOMATIC DOOR INSTALLATION
If you need a pedestrian door for your commercial or industrial property, Creative Door Services™ has you covered. Our product catalogue offers a wide selection of hollow metal and automatic doors suitable for a variety of private and public setting applications such as offices, warehouses, hospitals, and retail centres. We also provide specialized options such as hurricane-resistant steel doors and fully functional automatic doors.
Our experienced technicians can handle the installation of your new pedestrian door, ensuring that it meets all building codes and safety regulations. With our expertise and proper tools, you can trust that your new door will operate as intended..
Our team can provide expert advice on which door materials, types, and features will work best for your facility. We carry everything from heavy-duty metal doors to automatic, impact-resistant glass doors. In addition, depending on the needs of your facility, you can choose either a door with manual operation or one with an automatic swing or slide system. You can trust our technicians to provide expert installation to ensure your door meets your building's requirements and provides the right level of protection. Keep reading to learn more about pedestrian doors: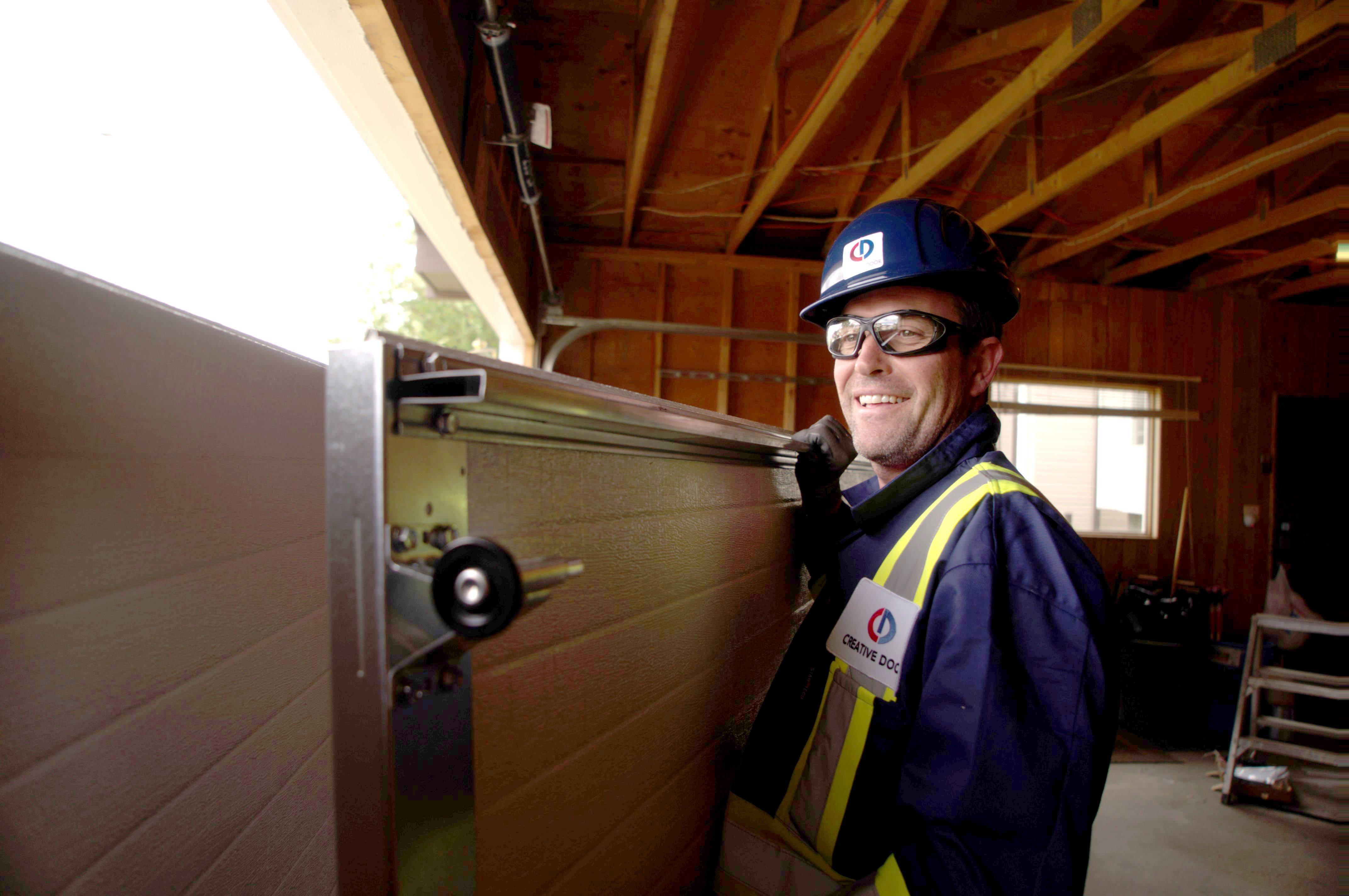 WHY PROFESSIONAL INSTALLATION MATTERS
Since garage doors, commercial doors, gate systems, and pedestrian doors are all important access points that help improve the safety of your home or business, there's no room for installation errors. In fact, improper installation can lead to premature wear of parts and cause malfunctions that can leave your home or business vulnerable to break-ins and weather damage. On top of all that, having your door system professionally installed will ensure it remains under warranty and can be promptly serviced or repaired when needed.
To ensure your door or gate system operates as intended and provides an optimal level of protection, it's best to have it installed and tested by trained technicians. At Creative Door Services™, we stand behind the work we do as well as our products, services, safety practices, and people.


RELIABLE INSTALLATION SERVICES THROUGHOUT WESTERN CANADA
Trust the experienced team at Creative Door Services™ for your next garage door, commercial door, pedestrian door, or gate installation. No project is too big or small for us.
We've been working alongside our commercial and residential clients for nearly five decades and are committed to providing top-quality service. We provide free quotes on all custom door solutions within 24 hours. Contact us today at one of our eight locations. You can find us in Kelowna, British Columbia; Vancouver, British Columbia; Calgary, Alberta; Edmonton, Alberta; Fort McMurray, Alberta; Regina, Saskatchewan; Saskatoon, Saskatchewan; and Winnipeg, Manitoba.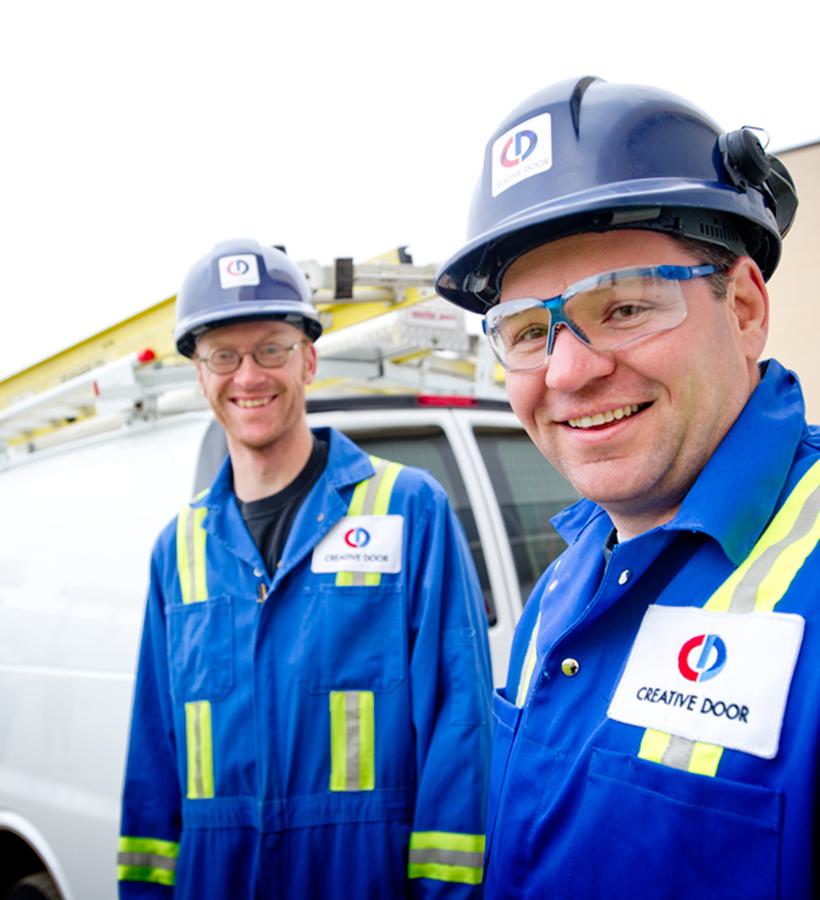 Request Quote
Starting a new project? Get a free quote on a custom door solution within 24 hours.
Request Quote
Request Service
Installation, maintenance or repair needs? Our experienced team is ready to help.
Request Service